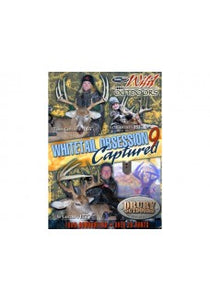 Today's technology has allowed the use of trail cameras to monitor deer movement and The Wild Outdoors crew takes advantage of this technology year round.  From the early summer feed patterns to the late season shedding, the cameras become part of the experience.  In a sense, establishing this type of a relationship with a buck, watching him grow, learning his patterns, and finding his sheds are 90% of the battle.  In Whietail Obsession 9 "Captured" you will follow The Wild Outdoors crew through many of these types of relationships.  To us there is no greater accomplishment than harvesting a buck that you have "captured", or enjoyed witnessing nearly every aspect of his life.
 With 20+ 100% wild bow hunts, you clearly see wthat we are "captured" by this obsession.  Our lifestyle is learning about, getting close to, and harvesting mature whitetail bucks, so prepare to become a part of this obsession with Whitetail Obsession 9 "Captured".  
Whitetail Obsession 9 Is the latest in a line of videos from producer Jay Gregory and the Wild Outdoors.  Jay produces and edits the title and Drury Outdoors distributes them.