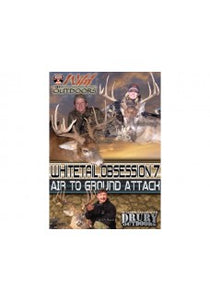 WHITETAIL OBSESSION 7 Air to Ground Attack is our newest release in this defined series of videos. Focusing equally on stand hunting (air attack) and blind hunting (ground attack) this feature gives an in-depth look at both uniquely diverse styles of hunting. Along with learning the benefits of both tactics, you'll also enjoy:
Jay Gregory having one of his best seasons to date, harvesting three monster whitetails.
Eight-year-old Wyatt Gregory experience his first year of bowhunting.
Cameramen Ryan Arnold and Mac Lee get out from behind the camera and harvest bucks in Missouri, Nebraska, and Kansas.
Pro-staffer Paul Thornton (PT) harvests three outstanding whitetails.
Jake and Kyna Latendresse harvest two early season Nebraska bucks from the same blind.
Tammi Gregory having another successful season, taking two beautiful bucks.
All in all, this production is packed with 20 hunts. With our video being 100% bowhunting, you know the action will be up-close and personal. So sit back, relax, and prepare to become obsessed.