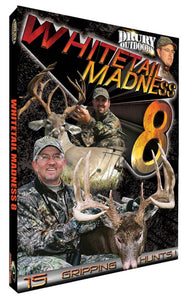 *Craig Olson finally kills a deer!
*Husband and wife tandem kill gross Boones!
*Incredible footage, one buck tries to kill a doe!
The "Madness" rolls on for another season as our reality journal continues.  The season is followed from beginning to end as the Drury Team chases the elusive whitetail deer.  We start our journal shed hunting in February and end it during the late season in January.  In between we take you all over the country following what the Drury team did to prepare for the season.  Nothing is withheld as we bring you all access reality footage.  Mark and Terry will show you a special introduction to the hottest method of monitoring game ever, the Wildlife Eye from M.A.D. Calls.  We'll take you along as Mark shoots his first Missouri buck since 1989 and Terry harvests the biggest deer of his life, a 178" giant.  There is also great footage of Mike McFerrin missing then harvesting a 191" drop tine buck.  Throw in reality scenes of all of your favorite hunters and you have the best whitetail video of the year.  Sit back as another year of exciting deer action unfolds in your living room on "Whitetail Madness 8".