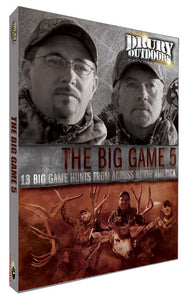 Step out of your usual hunting spot and step into adventure with another exciting chapter of The Big Game series.  Fly along with the Drury Team as they jet across North America to connect on the most exotic game the Northern Hemisphere has to offer.
Giant elk in New Mexico.  A muley in Montana.  Pronghorn in Wyoming and Montana.  Whitetails in Texas, Wyoming and Montana – there's more including plenty of bear action as well as nilgai in Texas.  It's a die-hard's fantasy vacation and you're invited.
Mark Drury's first day in Colorado was filled with ups and downs across the plains and ended with a huge 170" muley hitting the dirt.  Join Jason Irish's father, Steve, as he connects with antelope in Big Sky Country.  Richard Saenz and Mike McFerrin double their trouble as two giant whitetails come in during the Texas rut.